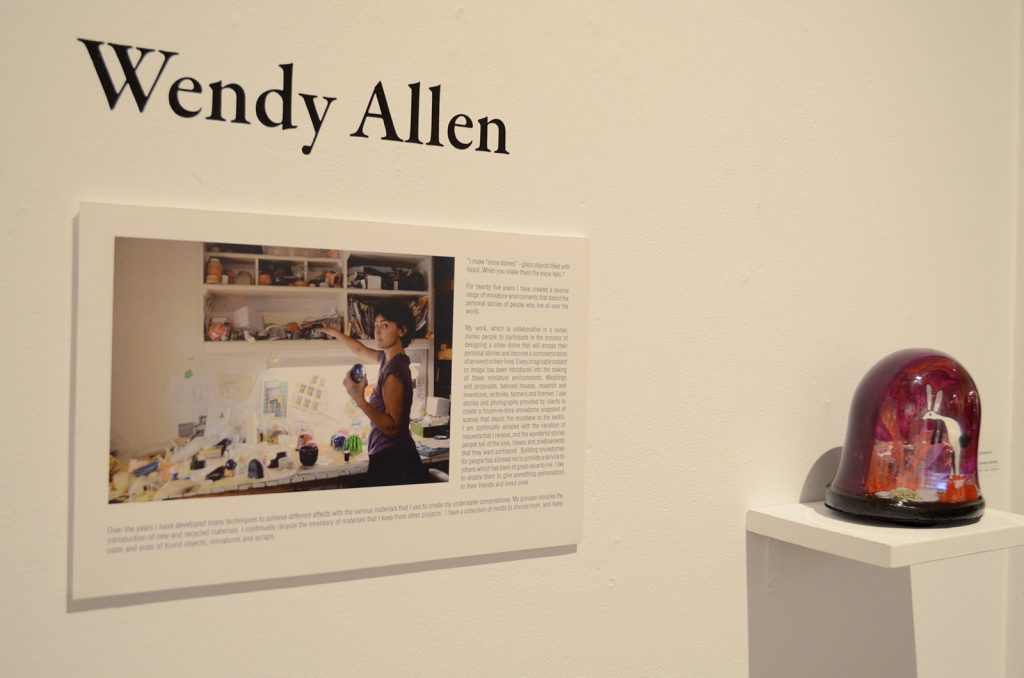 Wendy Allen, designer of custom snowdomes & snowglobes, studied fine art at Banff center and Paris American Academy. She is the recipient of several Canada Council grants. Her paintings and drawings have been exhibited in various locations in Canada and Europe.
I make "snow domes" – glass objects filled with liquid. When you shake
them the snow falls."

For twenty five years I have created a diverse range of miniature
environments that depict the personal stories of people who live all over
the world.

My work, which is collaborative in a sense, invites people to participate
in the process of designing a snow dome that will encase their personal
stories and become a commemoration of an event in their lives. Every
imaginable subject or image has been introduced into the making of these
miniature environments. Weddings and proposals, beloved houses, research
and inventions, victories, farmers and firemen.          I use stories and
photographs provided by clients to create a frozen-in-time snowdome
snapshot of scenes that depict the mundane to the exotic. I am continually
amazed with the variation of requests that I receive, and the wonderful
stories people tell of the joys, losses and predicaments that they want
portrayed.  Building snowdomes for people has allowed me to provide a
service to others which has been of great value to me. I like to enable
them to give something personalized to their friends and loved ones.

Over the years I have developed many techniques to achieve different
affects with the various materials that I use to create my underwater
compositions.  My process includes the introduction of new and recycled
materials. I continually recycle the inventory of materials that I keep
from other projects.  I have a collection of molds to choose from, and
many odds and ends of found objects, miniatures and scraps.

The majority of my artwork production has been completed on a commission
basis and in response to other people's stories and input. I am now at a
point in my career where I want to complete a body of work that focuses on
my stories.  In order to do so I need a period of time dedicated to
research, further experimentation with materials, and idea development.
It is my wish to make my own interiors for the snowdomes. I would like to
produce a series of snowdomes that I can exhibit as a complete body of
work in a gallery setting.

I am currently experimenting with lights, transparencies and abstract
representations of ice and snow as well as natural patterns and textures
in the environment I also have an interest in the actual stories told to
me by people requesting custom snowdomes. With the permission of the
client I would like to give expression to this information in a snowy
scene similar to how a fiction writer uses real life experiences to fuel a
story.